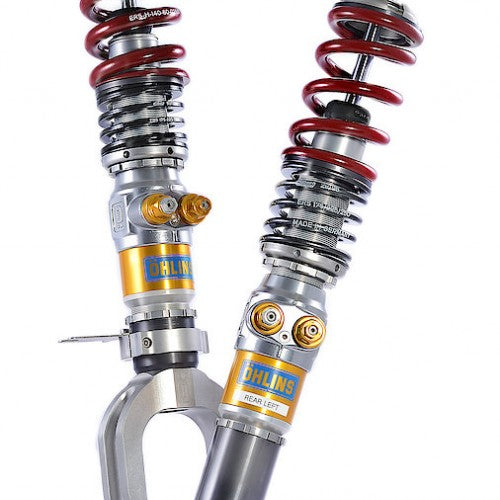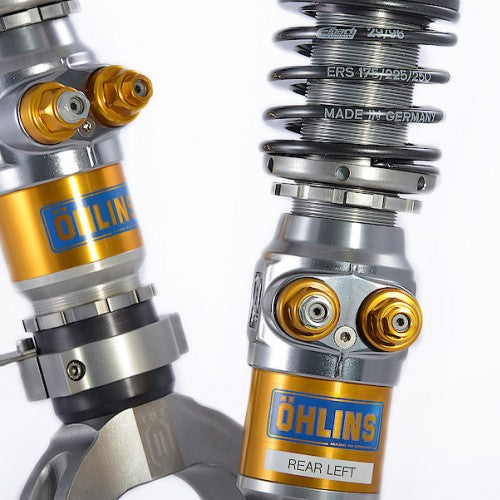 Öhlins SUSPENSION TTX-Pro range
The Öhlins TTX-Pro range of suspension systems have been developed for discerning club level racers and trackday aficionados looking to utilize identical technology as the pros use to maximize performance. The dampers are carefully chosen for each application from Öhlins' professional TTX motorsport range and adapted to suit road going cars where the focus is on track use.
Öhlins TTX dampers are pressure balanced at every clicker setting without the need of excessive nitrogen pressure, resulting in a broad range of adjustability without cavitation. The vehicle-specific suspension settings have been rigorously tested to ensure they deliver on track, while being compliant for the journey back home. All dampers are truly independent in compression and rebound adjustability, providing owners the possibility to fine tune their set-up according to the conditions of the track.
The benefits are immediately apparent - reduced weight, improved grip and feel in the car like never before. As expected from Öhlins only the highest quality materials are used and each system is dyno matched to ensure consistent handling. If you're looking to lap quicker through improved confidence in your car's suspension, then look no further than Öhlins TTX-Pro range of suspension systems.
HIGHLIGHTED FEATURES
TTX Technology
Developed for Track-Focused Cars
Independent Damping Adjustment
Pressure Balanced
Dyno Matched
Popular Applications
Rebuildable
* This is a non return item, please verify your application before you order.