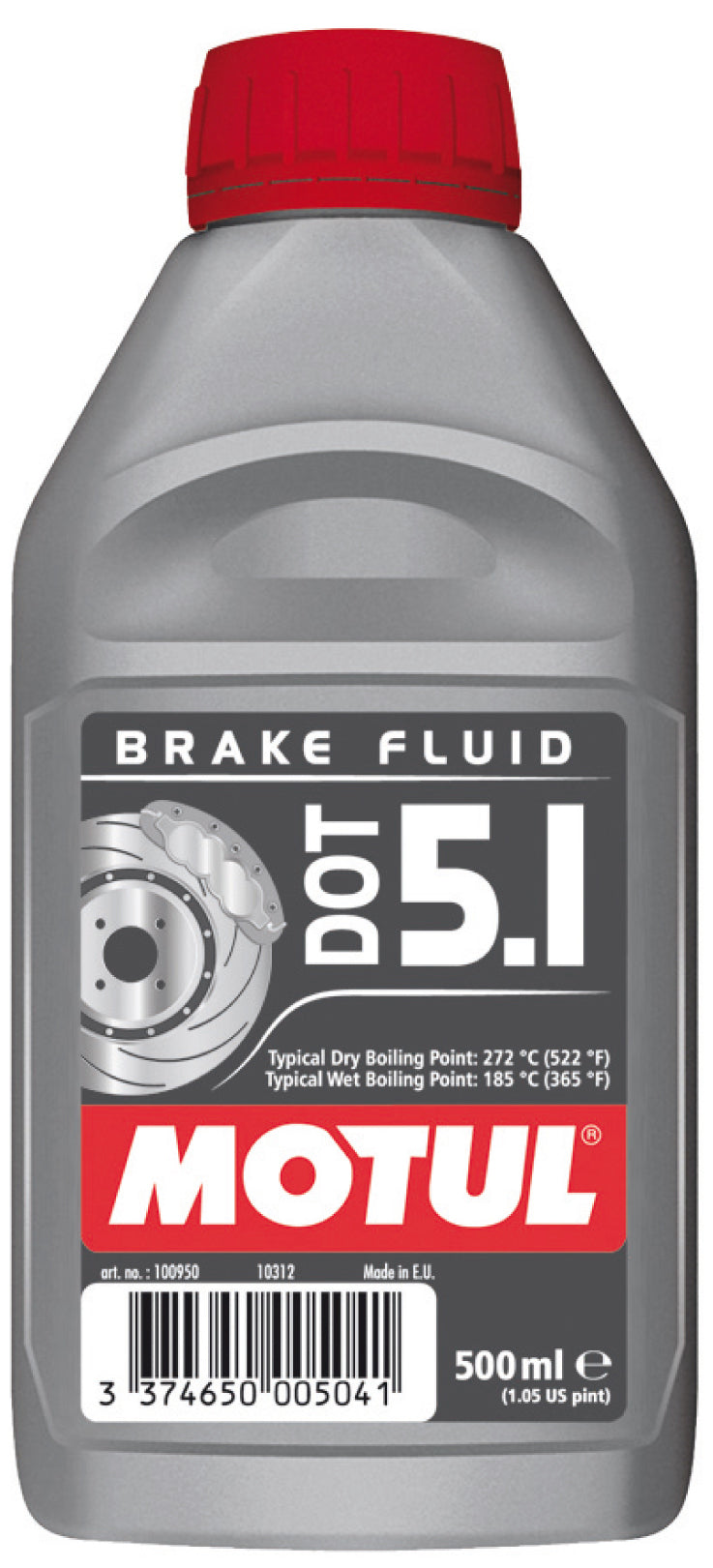 MOTUL BRAKE FLUID DOT 5.1
Long life 100% Synthetic Fluid
For hydraulic actuated brake and clutch systems
DOT 5.1 Poly-Glyco Based

 

*NON SILICONE BASE*
TYPE OF USE
All types of hydraulic actuated brake and clutch systems in accordance with DOT 5.1, backwards compatible with DOT 4 and DOT 3 Motul brake fluids
PERFORMANCE
Standards :

FFMVSS 116 DOT 5.1 NON SILICONE BASE, DOT 4 and DOT 3
SAE J 1703
ISO 4925 ( Class 5.1, 4 & 3)

Long life fluid:

Very High Dry boil point 269°C / 516°F 
The high wet boiling point (185°C / 365°F), superior to DOT 4 (155°C / 311°F mini) and DOT 3 (140°C / 284°F mini) 

Specially designed for anti-locking brake systems (ABS) :

The viscosity (820 centistoke at -40°C / -40°F) lower than DOT 4 (up to 1800 cp) and DOT 3 (up to 1500 cp) brake fluids allows for faster fluid circulation of anti-locking braking systems, allowing ABS systems to cycle faster for more effective braking performance.
Perfectly neutral with seals used in braking systems. Anti-corrosion.
RECOMMENDATIONS
Backwards compatible with Motul DOT 3, DOT 4 and DOT 5.1 NON SILICONE BASE products.

Do not mix with silicone 

(

DOT 5 silicone base

) or mineral base fluids (LHM).
Store brake fluid in its original container, tightly closed to avoid absorption of moisture.
Aggressive chemical product if contact with hands, paint or varnish.
If skin contact, rinse thoroughly with water.
Drain Interval: 12 to 24 month as per manufacturers' recommendations.
We currently have 39 in stock.