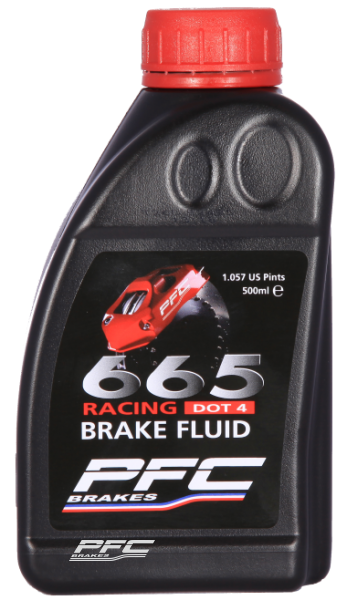 PFC RACING BRAKE FLUID
PFC 665 Racing high performance brake fluid has been specially formulated for fast road, trackday, rally & race applications, where braking systems operate at very high temperatures.
A complex mixture of Glycol Ether Borate Esters and Polyalkylene Glycol Ethers together with advanced corrosion inhibitors, antioxidants and other modifiers results in an exceptional brake fluid with not only a very high boiling point but which also conforms to FMVSS 116 DOT 4 and maintains its class leading viscosity, lubricity and compressibility performance at extreme temperatures to ensure braking system reliability and performance and a firm, consistent pedal.
● DRY BOILING POINT: RH665 – 617°F (325°C)
● WET BOILING POINT: RH665 – 383°F (195°C)
● Street legal
● Firm and consistent pedal
● DOT 4 RACE BRAKE FLUID
BEWARE: Many racing brake fluids do not meet the viscosity requirements of DOT4.
  * This is a non return item, please verify your application before you order.